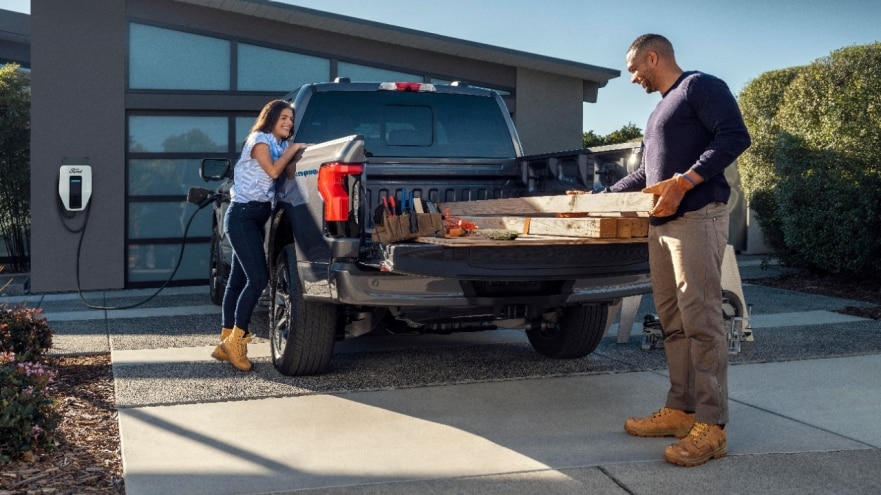 DEARBORN, Mich., May 2, 2022 – F-150® Lightning™ customers will benefit from more power and capability than they expected from their trucks.
F-150 Lightning, the only full-size electric pickup available now with a starting price less than $40,000, will begin to ship to customers in the coming days, starting with the Pro Series, as Ford establishes itself as a leader in the electric vehicle revolution. Lightning is the smartest, most innovative F-150 that Ford has ever built, with the freedom of a 10-kilowatt smart power plant on wheels, software updates that will make it even better over time and Built Ford Tough capability.
Both the standard- and extended-range battery packs offered on F-150 Lightning will deliver more horsepower than originally targeted and announced when the truck was revealed in May 2021, and the payload capacity increased as well.
"We were seriously focused on raising the bar on this truck, including after we revealed it, so we can deliver more for our customers," said Dapo Adewusi, F-150 Lightning vehicle engineering manager. "And our drive for continuous improvement will get a big boost when we start getting feedback and ideas from customers when they receive their Lightnings."
The extended-range battery pack produces 580 horsepower – up from the targeted 563 horsepower. The standard-range battery pack delivers 452 – up from the targeted 426 ponies originally promised. Both packs are capable of producing 775 lbs.-ft. of torque, more than any other F-150 pickup ever.
"Considering the initial numbers were impressive, these are amazing!," says F-150 Lightning customer and high school teacher Travis Piser. "It really inspires a lot of confidence about how the truck will perform."
F-150 Lightning is the only electric vehicle that is Built Ford Tough, and its maximum available payload capacity also increased from original targets. Properly equipped F-150 Lightning pickups can now haul an extra 235 pounds for a total 2,235 pounds of maximum available hauling capability.
"I have been very excited for this truck ever since it debuted a year ago. The experience of driving one was simply amazing," says F-150 Lightning customer and deputy fire marshal Matthew Brown. "Now you are telling me that is has more horsepower and can haul over a ton of weight in the bed. Absolutely blows my mind!"
In March, Ford released the final EPA-estimated range figures for all F-150 Lightning pickup models, which includes a 20-mile increase for F-150 Lightning XLT and Lariat trims with the extended range battery for a total EPA estimated range of 320 miles. Fleet customers have the option to purchase the extended-range battery on Lightning Pro and that has an EPA-estimated range of 320 miles.2
Click here to learn more about the electric 2022 Ford F-150 Lightning pickup, and click here to learn more about charging.