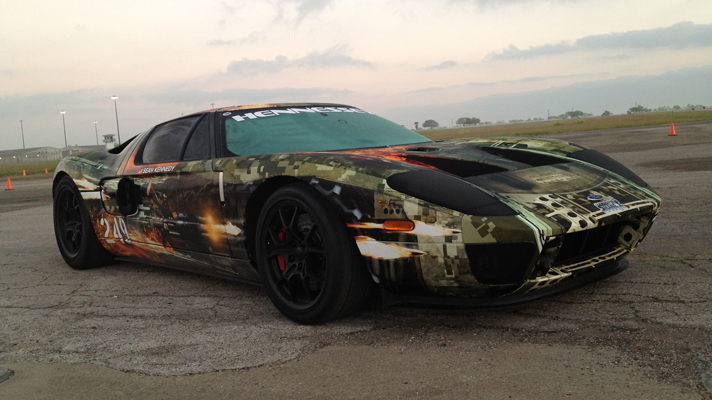 Watch a 2000hp twin-turbo Ford hit a new standing mile record at the 2012 Texas mile
"I think I can do better in the lower gears next time and we can run an even better speed," says Sean Kennedy, driver of the twin-turbo Hennessey-powered Ford GTthat has just set a new record at the Texas mile.
That's right, this Texan gentleman reckons he can go even faster than 257.7mph; the time he set driving Mark Heidaker's modified Ford GT at the Chase Field industrial complex in South Texas.
"I was impressed with how hard it pulled in fourth and fifth gears," he noted, somewhat modestly, considering just how hard the GT can bend space-time. The race-engineered 5.4-litre Ford V8 has had two turbochargers strapped onto its blue-collar banks, with a whopping 34psi of boost pressure harnessing 117 octane racing fuel.
Gallery: Hennessey's twin-turbo, 2000hp Ford GT
In today's money, Hennessey tells us that equates to 2000hp - yup, you read that right - and a 0-62mph time of 2.9 seconds. As such, the team clocked up speeds of 216mph, then 228mph and 230.6mph on the final Friday run. On Saturday, the GT posted 246.8mph and later 250.1mph. In the cool conditions of Sunday morning, the team clocked the time of 257.7mph, apparently 4.6mph faster than the nearest competitive speed.
Nobody from Guinness was present to ratify it as a world record, but the current standing mile speed record was achieved by Johnny Bohmer from Performance Power Racing on 16 June last year in - surprise surprise - a modified Ford GT. He hit 223.42mph. That's 34mph slower than the Hennessey.
Mr Hennessey says he plans on submitting the record run data to Guinness, so we could be in store for a new world record.
Watch the video here!