Gepubliceerd op zaterdag 4 maart 2017
Solliciteren voor Allround Automonteur Supercars m/v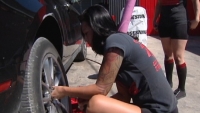 Bos V8 SuperCars is op zoek naar een enthousiaste kandidaat voor de functie:
Allround Automonteur Supercars m/v
Ben jij op dit moment een automonteur die in staat is om zelfstandig onderhouds- en reparatiewerkzaamheden te verrichten en die zelfstandig diagnose kan stellen bij storingen en deze kan herstellen?

Wil je door interne- en externe opleidingen de kans pakken om op de hoogte te blijven van de laatste technische ontwikkelingen? En wil je aan de slag met echte motoren?
Dan is het tijd voor een nieuwe stap in je carrière..
Profiel Allround Automonteur Supercars
Wij zoeken kandidaten met:
Enkele jaren relevante werkervaring;
Capaciteit om zelfstandig te werken;
Motivatie, inzet en bereidheid om te leren;
Een flexibele, klantgerichte en collegiale instelling;
Indien je in het bezit bent van je APK papieren is dit een pre
Ervaring met zwaardere motoren of voertuigen is eveneens een pre.

Wij bieden jou:
Bos V8 SuperCars is een betrouwbare en solide werkgever. Wij bieden je een prettige werksfeer, een compact team met korte lijnen en volop doorgroei- en opleidingsmogelijkheden. Wij weten je prestaties te waarderen en hebben oog voor je capaciteiten. Tevens bieden we je goede (secundaire) arbeidsvoorwaarden.
Bedrijfsprofiel
Bos V8 SuperCars is de laatste jaren uitgegroeid tot een begrip in Nederland. Wij zijn gespecialiseerd in Amerikaanse Muscle Cars met name van het merk Ford. Vanuit een modern bedrijfspand met een hypermoderne maar gezellige werkplaats bieden wij een hoge servicegraad.
Leer ons kennen en loop gerust eens binnen voor een kop koffie, Bas staat je graag te woord!
Contact
Stuur je sollicitatie naar:
Bos V8 Supercars BV
T.a.v. dhr. Bas Bos
Middelblok 212
2831 BR
Gouderak (Bij Gouda)
Tel: 0182 372966
Mob: 06-26708866
Of loop eens binnen voor een kop koffie!
---